About the Book
Reflection on a life of nearly fifty years, as a caregiver in multiple healthcare and leadership roles, gives me pause to seek to find a voice and be heard. There are many reasons why one would want to write a book, and as a caregiver, something within me aches to share the insights and wisdom that I hold as a sacred treasure. My experience with compassion fatigue and my recovery urges me to reach out to all who care selflessly for others. I want to say that the scars or interior wounds that you experience as caregivers are invitations to rediscover your Soul. You are not alone. You are not going mad when your soul aches because you have cared.
Introduction to the Soul of Caregiving (read by the Author)
Learn more in how to deal with the symptoms of Compassion Fatigue and Burnout. This is an excerpt from the Audiobook edition.
Purchase the Soul of Caregiving
Feeling alone, overwhelmed, and not being heard? The Soul of Caregiving can be your companion, a book that takes on a life of its own, and listens to your story. There is a magic about the book that gently guides you to a deeper understanding of your call to caregiving. Feel safe, secure, and not alone as you find yourself lost in the narrative and stories that are like a mirror that allows you to discover anew your own experiences.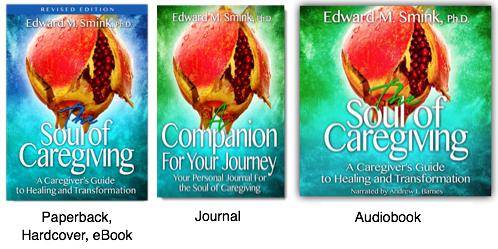 Get your copy of The Soul of Caregiving in the format you prefer (click below):
Bundled Special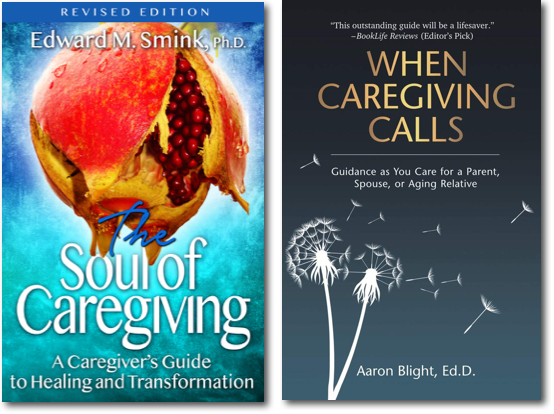 In honor of National Caregivers month, you can get a deep discount when you purchase both When Caregiving Calls by Aaron Blight, Ed.D. and The Soul of Caregiving together.
Secure Purchase Page
Reviews for When Caregiving Calls
"This easy-to-read book provides family caregivers with valuable insights, guidance, and affirmation that reflect empathy and respect for their role. Dr. Blight's poignant stories will help both family caregivers and the professionals and other family members who support them." — Rhonda J. V. Montgomery, PhD, Internationally Recognized Expert on Family Caregiving
"Expert Aaron Blight explores the daily realities of caregiving and offers candid, practical advice to help family caregivers cope with their many challenges... This outstanding guide will be a lifesaver for anyone saddled with these immense responsibilities and seeking peace of mind." — BookLife Reviews (Editor's Pick)
"Candid, compassionate, and comforting caregiving advice." — Kirkus Reviews